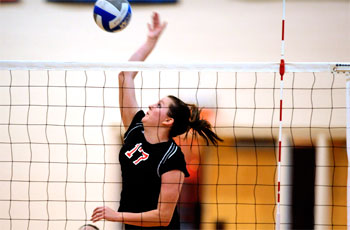 HAVERFORD, Pa. – The Haverford College women's volleyball team dropped its final two matches of the Haverford Invitational Sunday afternoon in Gooding Arena. The Fords were upended by No. 8 California Lutheran University 3-0 (26-24, 25-18, 25-15) and Bethany College 3-1 (27-29, 25-22, 25-13, 25-20).
In the opener against Cal Lutheran outside hitter Laura Ramos led the team with eight kills. Setter Haley Lowrance recorded a double-double with 19 assists and 11 digs. Outside hitter Caitlyn Tranquillo was the Fords' defensive leader with 15 digs, while libero Sarah Brody had 13. The Regals got 13 kills from middle hitter Casy McWhirk and a double-double, consisting of 30 assists and 10 digs, from setter Jackie Russell.
Three Fords recorded double-digits kills in the nightcap with Bethany. Middle hitter Olivia Coburn-Flynn had 11 kills and outside hitter Emily Mills and Ramos had 10 each. The 10 kills are a career-best for Mills. Ramos also had a team-high 15 digs. Lowrance contributed a season-high 36 assists. Outside hitter Lauren Goodwill had 16 kills for the Bison. Libero Tiffany Hoffman recorded a match-high 21 digs.
Haverford (0-4) travels to Massachusetts for a weekend tournament at Brandeis University. The Fords open the tournament Friday, September 9 against Bates College at 6 p.m., and Wellesley College at 8 p.m.