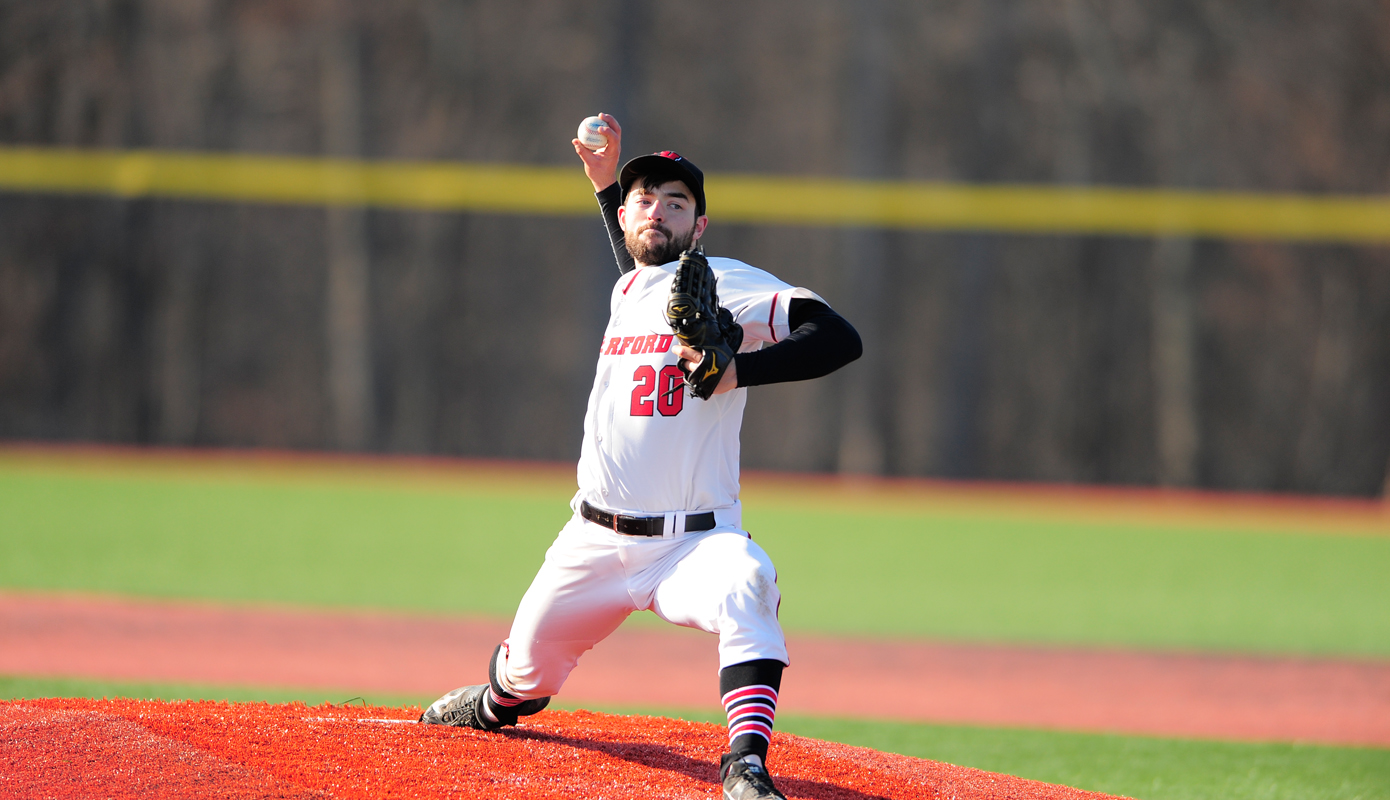 HAVERFORD, Pa. – The Haverford College baseball team (7-9) was defeated by visiting TCNJ (10-2), the 13th-ranked team in the latest Collegiate Baseball poll, on Thursday afternoon at Kannerstein Field, falling by a 6-4 final. Haverford rallied to pull within one in the fourth inning, but a Jacob Simon home run proved to be enough insurance for the Lions to escape with a road victory.
TCNJ struck for three runs in the first against Haverford starter sophomore Ryan Giovenco (0-3), with Garry Otten picking up an RBI single in the frame. The Lions continued their offensive in the second, with Tommy McCarthy connecting on an RBI double as TCNJ stretched its lead to 4-0.
The Fords got one back in the bottom of the frame against TCNJ starter Matt Volpe (1-0). First-year Zach Landry walked to begin the inning, and senior Nick Perez was hit by a pitch to put a runner in scoring position. Senior Sam Partee walked to load the bases, and with one out junior Will Karp connected on a sacrifice fly, plating Landry to cut the TCNJ lead to just 4-1.
The Haverford offense began to find its rhythm in the bottom of the fourth. Sophomore Garrett Melby singled up the middle and Karp singled into right field. With two down, junior Harrison Burns placed a single into right field, scoring Melby. Junior Luke Wallis kept up his hot start to the season with a single through the left side of the infield, plating Karp as suddenly Haverford was within one at 4-3 at the end of four. Wallis has now reached safely in each of Haverford's 16 games this season.
Junior Nathan Vucovich followed Giovenco with two innings of scoreless relief, later handing the ball to first-year Kevin Casey, as the first year induced a double play to end the the fifth inning. The home run from Simon came against Casey in the sixth, as David Cardona III doubled to begin the inning and Simon then knocked his round-tripper to put the visitors ahead 6-3.
Haverford added a run against Yariel Levin in the bottom of the sixth inning. Karp walked with one out and stole second, advancing to third on a Levin balk. Senior Ethan Lee-Tyson then grounded out to deep short, plating Karp to cut the lead to just 6-4.
Senior Austin Castellanos notched two scoreless innings of work, and senior Tom Phillps also pitched a scoreless ninth for the Fords.
Nick Kleftogiannis pitched the ninth for TCNJ, tossing a 1-2-3 frame to earn his first save of the season.
The Fords return to action on Saturday, March 30, opening up Centennial Conference play at home against Gettysburg. First pitch for the doubleheader is slated for noon.