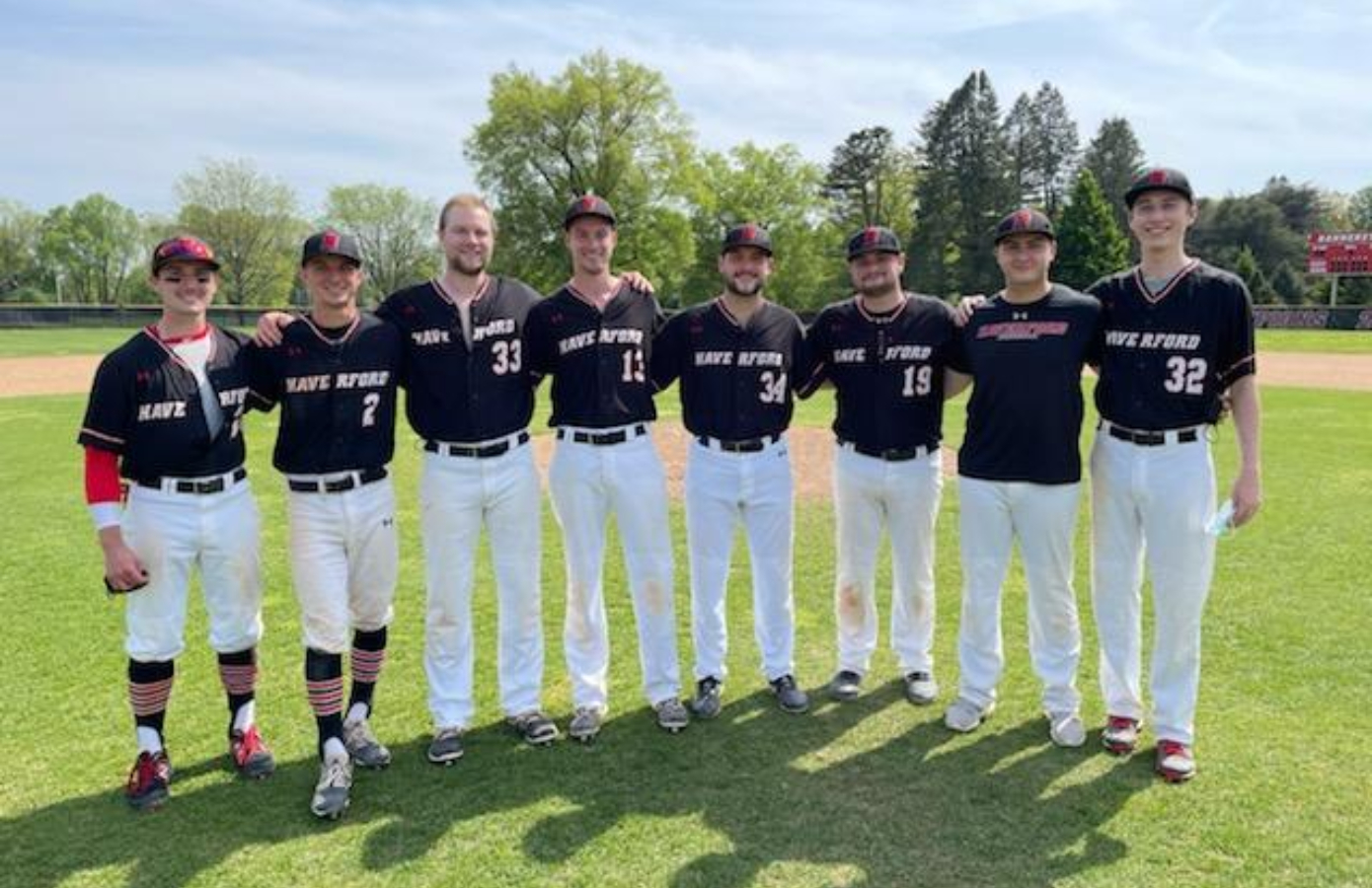 Play Video
HAVERFORD, Pa. - The Haverford College baseball team (1-0) returned to action at Kannerstein Field for the first time since the 2019 season on Sunday, and instantly showcased its home field advantage with a convincing 14-6 win over Muhlenberg (5-7). The Fords offense pounded out 15 hits, including five for extra bases, while nine pitchers combined to limit Muhlenberg to just six hits, recording 13 strikeouts on the afternoon.
Jordan Shand came off the bench to make an impressive collegiate debut for Haverford, finishing the day 2-for-2 with four RBI after roping a single to plate a run in the fifth and clearing the bases with a double to deep center field in the seventh.
Muhlenberg struck for two runs in the first, but the Fords took the lead without the benefit of a hit in the third, scoring on three consecutive bases loaded walks. Seniors Ben Somorjai, Garrett Melby, and Matt Sabitsky all notched an RBI in the sequence.
Luke Smith led off the fourth with a towering home run to left, the first of his career, and the Fords kept up the offensive fireworks in the fifth, as senior Thomas Primosch continued an impressive hitting debut with a one-out single to left and Mitchell Pagano followed with a single of his own to plate a run. Muhlenberg issued consecutive hit basemen, and Oliver Bergeron then cashed in a run with an RBI single. Shand's RBI single in the sixth added another insurance run for the hosts, and the five-run seventh frame saw Somorjai punch through an RBI single before Will Vostrejs notched his first collegiate hit and RBI. Shand then delivered the seismic bases-clearing jolt to give Haverford a 14-5 advantage.
Nine different pitchers saw action for the Fords, with first year Michael Rabayda getting the start on the hill. Senior Ryan Giovenco was a standout in a scoreless second inning, while Eric Kopczynski picked up the win with a scoreless third. August Williams, Justin McAllister, Patrick Coleman, Josh Fuller, and Andrew Johnson also saw action, and Thomas Coleman struck out the side in the sixth.
Muhlenberg was paced offensively by designated hitter Danny Monzo, who doubled twice and knocked in a pair of runs. Sam Zenna tripled in the seventh and Ryan Friesen homered in the eighth for the Mules. Donovan Brady pitched a scoreless eighth for the visitors.