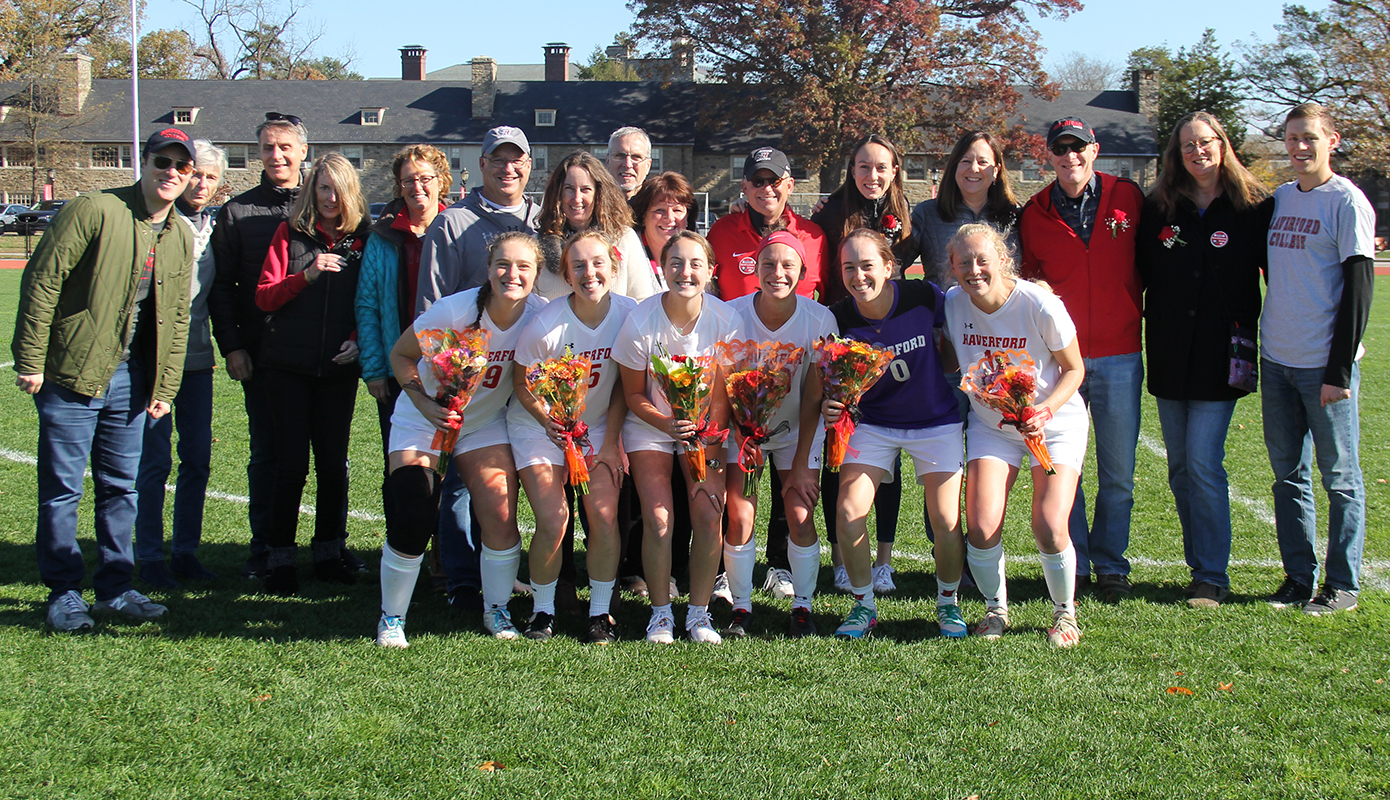 HAVERFORD, Pa. – The Haverford College women's soccer team celebrated Senior Day on Saturday against rival Swarthmore. Prior to the contest, Haverford honored seniors Kendra Griesman, Julie Hanss, Leanne Ludwick, Abby Singer, Kelsey Smith, and Lindsay Wytkind for their contributions to the program which have already led to 40 victories and four postseason appearances over the past four years.
Unfortunately for the Fords, they could not add on to that total Saturday as Swarthmore scored three second half goals to overcome Haverford's 1-0 lead at the halftime break. Jaclyn Corbin got the Fords on the board first as both defenses controlled the opening minutes of the match. However, Corbin broke through for her fourth goal of the season during the 39th minute of play off an assist from Ludwick. Corbin's goal was her fourth of the season while Ludwick recorded her eighth assist on the season. Ludwick is currently leading the Centennial Conference with 30 points as she has also scored 12 goals throughout the regular season.
Swarthmore was not going to go down without a battle as the Garnet answered that goal just over three minutes into the second half with Sophia Stills receiving Maddy Caren's pass through the defense to level the score. The Garnet took the lead during the 64th minute as Lizzie King recorded an unassisted goal before Brittany Weiderhold scored in similar unassisted fashion with just over 10 minutes remaining.
The Garnet finished the match with a 20-8 advantage in shots. Haverford goalie Hannah Friedrich came up with seven saves on the afternoon. Swarthmore goalies Chantal Reyes and Nora Greer split halves in the net as both keepers made one save for the Garnet. Ludwick and Corbin were the only Fords to record multiple shots on the day for Haverford, finishing with three and two attempts, respectively.
With today's results, the Fords secured the No. 3 seed and will play second-seeded Johns Hopkins in the Centennial Conference semifinals on Saturday, November 9. Dickinson will serve as the host of the championship weekend for the women's tournament with the championship match slated for Sunday, November 10.