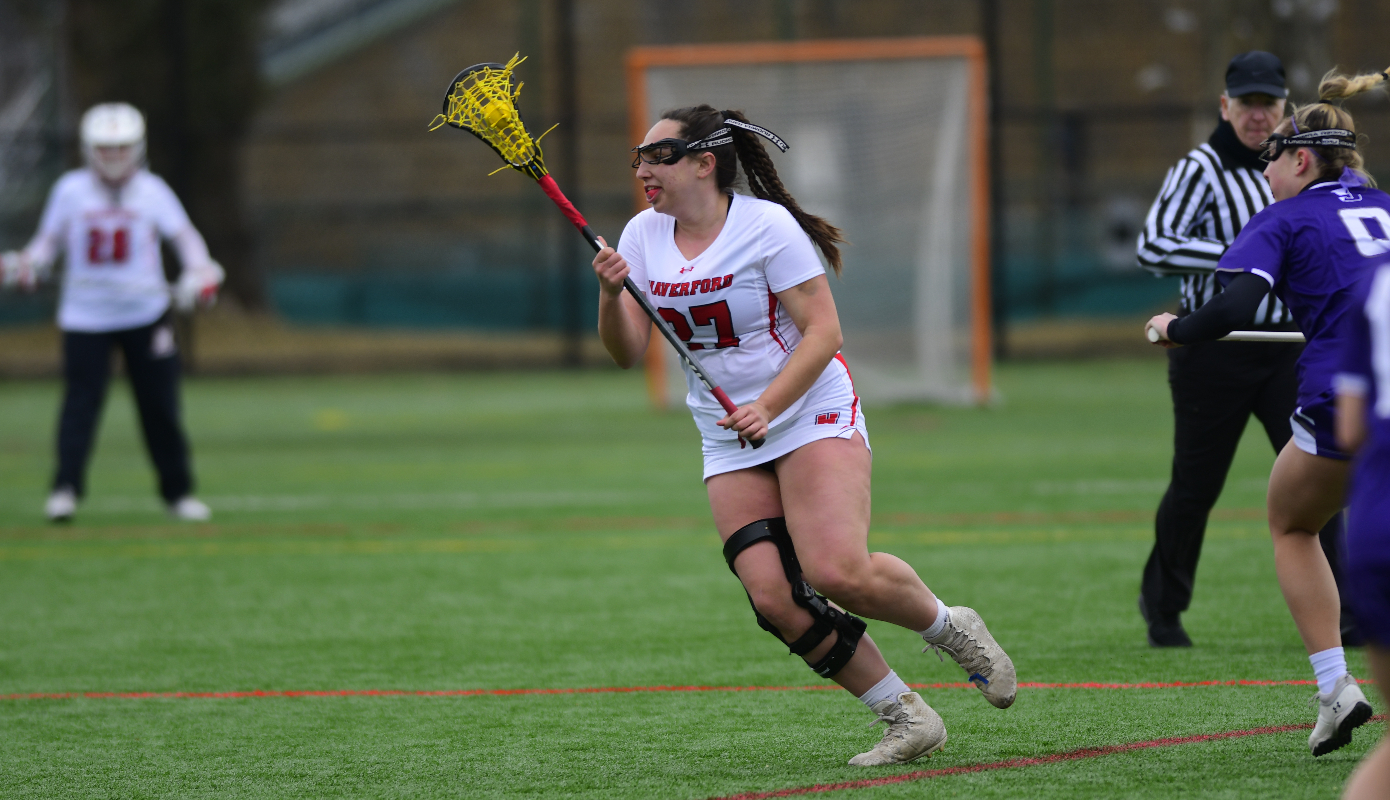 HAVERFORD, Pa. - The No. 24 Haverford College women's lacrosse team (4-2) was handed its second defeat of the year at the hands of No. 14 York College (Pa.) (4-2) by a score of 18-6 on Saturday in matinee action at Swan Field.
The Spartans proved to be just a step above Haverford in the Fords' second consecutive ranked vs. ranked matchup. They dominated the game in draw controls and shots. Callie Crawford led the way for the Fords, scoring a hat-trick on six shot attempts. Maria Krieg had another strong showing on defense despite the loss, scooping up six ground balls and causing five turnovers.
Crawford looked to get things going in the opening minutes. At the 14:08 mark, she put Haverford on the board with an unassisted goal. However, York answered back with a goal of its own just thirty seconds later from Chloe MacDonald. The Spartans then took the lead after a scoreless three and a half minutes with both sides looking to establish a rhythm. Logan Ward weaved her way through traffic for an unassisted goal. Roma Hladky, who finished the game with two goals, scored her first to tie the game up at two with 6:10 remaining in the first period.
York then added four unanswered goals to end the first period with a 6-2 lead. Haverford struggled with draw controls, losing out on possession after those goals. After York's goal to open the second period, Haverford finally answered after a Crawford goal with 10:47 on the clock.
York's Jenna Cholowinski scored shortly after to give her team the 7-4 lead but Hladky pulled one back with a solo attempt on net. Still, Haverford struggled with the Spartans' offense. York ended with another barrage of goals to end the period. Again, York scored four goals to end the period, giving the visitors a 12-4 lead at halftime.
The Spartans came out of halftime still firing on all cylinders, scoring two more goals from Cholowinski and Mia Alvarez. However, Haverford did what they could in the third period to gain momentum. Crawford and Sam Silverman scored goals in the final five minutes of the period to give the hosts some hope in the last quarter.
However, the Spartans were too strong on offense, scoring three goals in the final period to Haverford's zero. For the game Haverford were outshot 39-20.
With the loss, the Fords are 4-2 heading into their next non-conference showdown. The Fords will head to Reading to take on Albright on Wednesday, March 23, with the first draw control scheduled for 5 p.m.