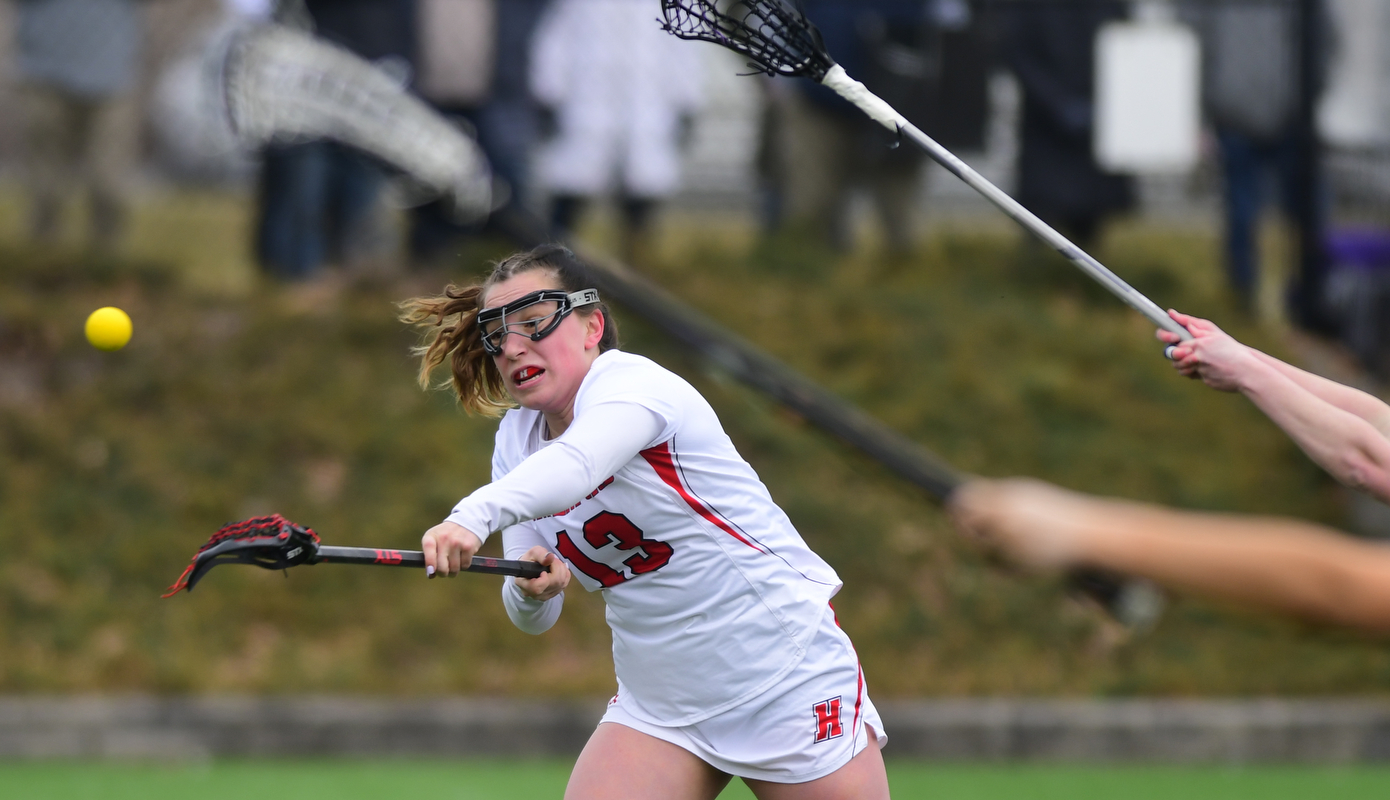 GETTYSBURG, Pa. - In their Centennial Conference opener, the No. 22 Haverford College women's lacrosse team (5-3, 0-1 CC) fell at the hands of No. 2 Gettysburg (6-2, 1-0 CC) by a score of 19-9. The Bullets pulled away from the Fords late in the first quarter in another ranked matchup and never looked back.
After a quick start from Gettysburg, Haverford went down 2-0 but recovered soon after. Sam Silverman scored at the 10:40 mark, then found the net again less than 30 seconds later to tie things up at two as the Fords looked to be in good shape to stick right with the Bullets.
Unfortunately for the Fords, the Bullets then went on a run, scoring four unanswered goals before the five-minute mark of the first quarter. The quarter eventually ended with Gettysburg holding a six-goal advantage leaving Haverford with an uphill battle in the final 45 minutes.
The hosts scored again to open up the second quarter, but Callie Crawford answered back with 12:26 remaining until halftime. However, the Bullets scored another quick goal making the score 10-3. The Fords continued to press the issue, earning multiple foul calls and shots on net. However, the Gettysburg goalie had other plans in mind, at one point saving back-to-back shots around the ten-minute mark.
Roma Hladky was finally able to get on the board for her team-leading 22nd goal of the year, cutting Gettysburg's lead to seven with 8:26 remaining on the clock. Hladky scored her second goal of the game three minutes later to cut the lead to six. Haverford started to create some much-needed momentum heading into the second half. Another quick goal to secure a hat-trick from Hladky at the 4:20 mark gave the Bullets something to think about, sowing further doubt as to the comfort of the lead.
The much-needed answer from Gettysburg came just under a minute later, as they scored to push their lead back to six. When the halftime buzzer eventually went off, Haverford found themselves down by a 14-6 score.
The rhythm of the contest unfortunately got away from the Fords in the second half. Gettysburg pushed the lead to eleven before Katharine Ference pulled a shifty move to score Haverford's seventh goal of the day. However, the game would end with a final score of 19-9 as the Bullets just rode out the game, taking advantage of the running clock. Jordan Denaver and Silverman scored the final two goals for the Fords.
With conference play underway, the Fords return home for a matchup with Dickinson on Saturday, April 2. The game's opening draw is scheduled for 12 p.m. on Swan Field.