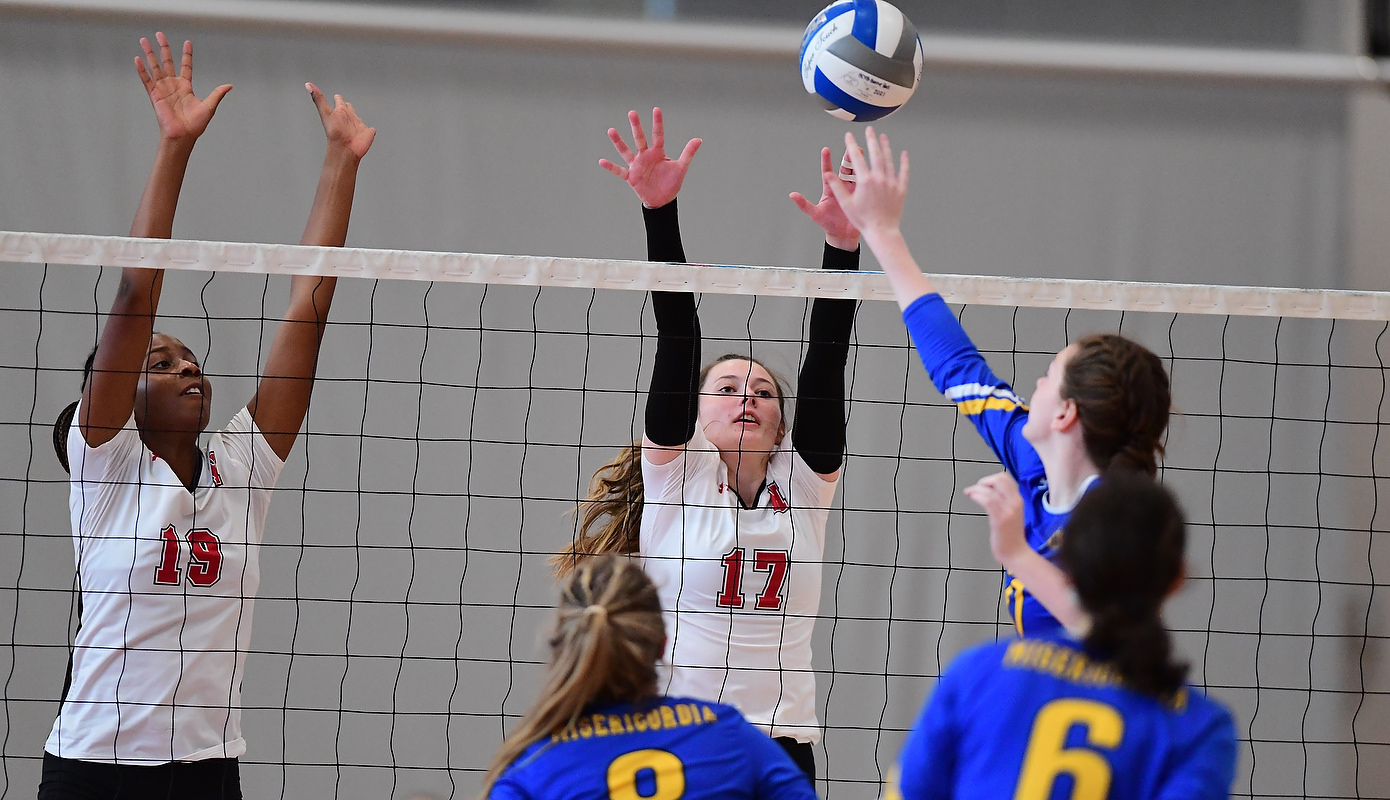 ASTON, Pa. - The Haverford College volleyball team improved its record to 9-1 to begin the season with a pair of victories on the first night of action at the Neumann Knights Invitational. Haverford dispatched Messiah (6-3) in straight sets before doing battle with the host Knights (4-6), prevailing in four in action at the Miranda Center.
Haverford 3, Messiah 0
Haverford came out firing against the Falcons, turning an early 9-9 tie into a 19-11 lead behind strong serving turns from Isabel Schwam and Caroline Lucas. Sara Hunsberger contributed two kills in that early stretch, and Haverford finished the set off with a strong closing push at 25-14, thanks in part to some stellar outside hitting from Dina Kosyagin. The Fords made just three attack errors in the opening stanza.
The second went to Haverford behind an 8-3 run to open play. Abby Holland and Kosyagin traded kills as the Fords offense was in rhythm throughout, opening up a commanding 21-9 lead before a 5-0 run gave Messiah some late life. Messiah battled back to within just four at 23-19, but kills from Jadyn Elliott and Kendall Otridge put the frame away at 25-20 in favor of Haverford.
The third saw the two sides knotted at 16-16 before the Fords sealed the victory with a dominating 9-0 run with Elena Filograna at the service line. The stretch was highlighted by Kosyagin and Taylor Jones connecting on back-to-back blocks while Filograna added a pair of service aces. The Fords limited Messiah to a negative hitting percentage in the final set.
Kosyagin (9 kills), Otridge (8), and Taylor Jones (7) paced Haverford offensively, with Hunsberger proving to be instrumental with 26 assists, four kills, and eight digs. Juliet Young (17 digs) and Isabel Schwam (10) also turned in solid performances while Hunsberger, Elliott, and Taylor Jones were all key factors in the blocking effort.
The Fords were making their first appearance against Messiah since 2015 and the meeting was the first on a neutral court since the 1991 season.
Haverford 3, Neumann 1
The Fords rallied from an early deficit in the first set as Neumann sprinted out to an 8-0 lead to begin play. Methodically, Haverford got right back into the thick of things, tying the score at 16-16 behind a kill from Holland. Neumann called for timeout, but the hosts could not stop the Haverford momentum as the Fords grappled back the upper hand and finished strong down the stretch with Kosyagin and Otridge leading the charge.

Neumann did rally back to take the second set, but Haverford opened up a big lead in the early goings of the third, pulling ahead 13-3 as Holland and Otridge each added consecutive kills to force a Knights timeout. The sizable lead was cut to just seven following a 6-0 Neumann run, but a block from Kosyagin and Taylor Jones ended the set at 25-14.
The fourth began with the Fords again in a strong position to begin the frame, charging out to a 9-4 lead. Téa Kuzbari recorded a service ace and Otridge punched down a kill to force a Neumann timeout as Haverford suddenly looked in command with a 14-6 advantage. The Fords had a relatively stress free outing from that point forward, as Kosyagin, Otridge, and Holland combined for nine kills to close out the match and hand Haverford a 9-1 start through its first 10 contests.
Hunsberger had an outstanding effort with a career best 52 assists while Juliet Young had 32 digs, also the best of her career thus far. Kosyagin matched her own career best in kills, a mark first set exactly a week ago against SUNY Geneseo, adding 23. Otridge notched 15 and Holland recorded 11. Elliott added five blocks in the nightcap. Haverford improves to 14-1 all-time against Neumann.
The Fords will now wrap up the Knights Invitational tournament on Saturday, heading back to Aston for a noon first serve against Widener.