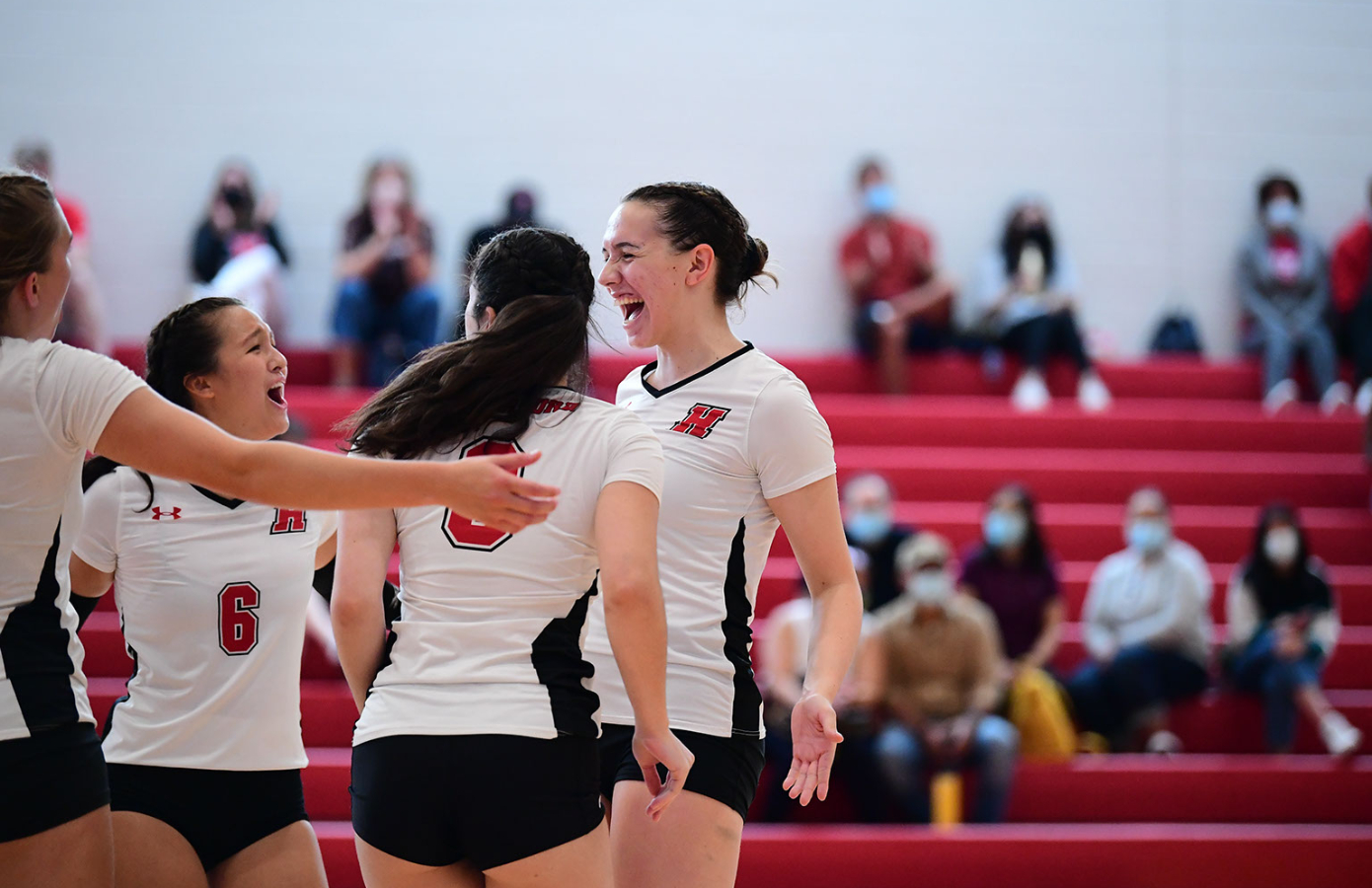 ASTON, Pa. - The Haverford College volleyball team (10-1) finished its second consecutive unblemished tournament weekend, posting a 3-0 mark at the Neumann Knights Invitational after securing a sweep of Widener (25-21, 25-18, 25-12) on Saturday at the Mirenda Center. Haverford has won eight straight matches.
The offensive effort in the noon match was paced by Dina Kosyagin (13 kills) and Abby Holland (12 kills). Taylor Jones was the leading blocker for Haverford, notching eight total blocks, a mark that matches the second-most in program history for a three-set win.
Haverford sprinted out to a 10-6 lead to begin the first set of the day, but the Pride battled back behind a strong blocking effort of their own to pull ahead by one at 12-11. The Fords had an immediate response, eventually stretching the lead back to five at 21-16 behind a 4-0 run. Holland and Kendall Otridge contributed kills in the final moments of the stanza, and a service ace from Juliet Young gave Haverford a 1-0 lead in the match.
The second set again saw the two sides locked in a close battle early, with the Fords pulling away from Widener late. The score was tied 11-11 before a 7-2 stretch gave the Fords some breathing room. Holland notched three consecutive kills in that run, while Taylor Jones grabbed a pair of solo blocks to put the Fords up seven at 24-14. Otridge and Jones then each added kills to hand the Fords the second set.
Haverford looked strong in the closeout set, dashing to a 7-1 lead to start play. Widener refused to go away quietly as they pulled to within three, but the Fords then unleashed another methodical run, taking a 12-5 lead with a stretch that included strong two-way play from Holland. The contest finished with yet another lengthy Haverford run, as the Fords scored 10 of the final 13 points for a 25-12 victory.
Young proved to be vital defensively for the Fords, with 24 digs and a service ace. Elena Filograna recorded 12 digs of her own, adding a service ace. In total, Haverford finished with eight aces while surrendering just one reception error. Sara Hunsberger tallied 35 assists. The Fords improved to 21-11 all-time against Widener in a series that dates back to 1982.
Juliet Young was named the Neumann Knights Invitational tournament MVP following the conclusion of tournament action. Young currently leads the conference in digs (245) and is second in digs per set (5.57).
Centennial Conference play begins on Saturday, September 25 as the Fords welcome McDaniel to Gooding '84 Arena at noon. The first home tri-match also includes a matchup with Stevens at 4 p.m.