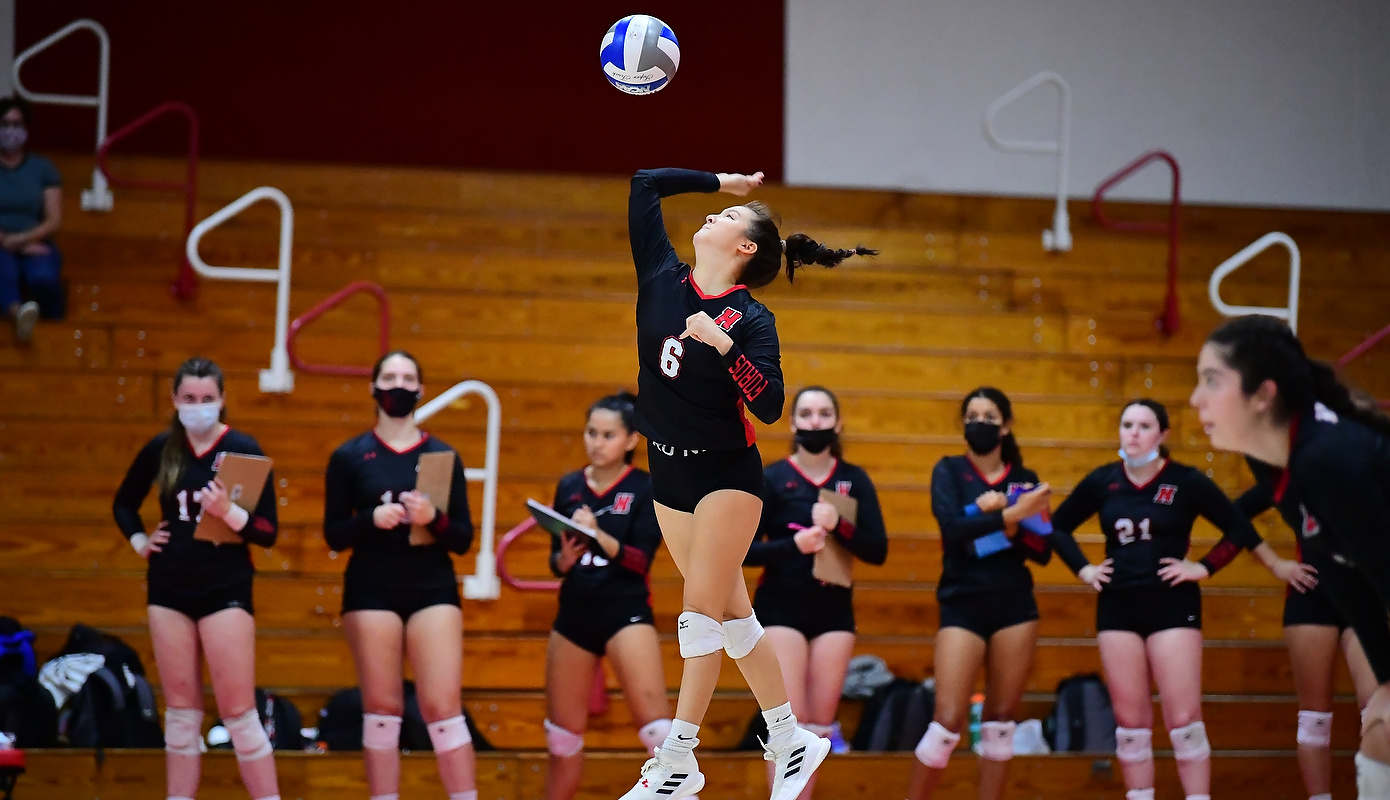 CARLISLE, Pa. - The Haverford College volleyball team (15-3, 4-1 CC) looked poised in a 3-0 sweep of Dickinson (10-5, 3-2 CC) inside the Kline Center on Saturday afternoon. The Fords were paced offensively by Kendall Otridge, as the junior tallied 12 kills. Sara Hunsberger added 36 assists and 12 digs in a well-rounded effort from the setter position while Juliet Young had a game-best 25 digs, anchoring the defense.
Haverford jetted out to an early 14-12 lead in the first set, buoyed by a strong service turn from Téa Kuzbari. The first year tallied a service ace in that opening stretch. Dickinson fought back to pull back within one, but the Fords eventually stretched their lead to 20-16 behind a kill from Abby Holland. Elena Filograna looked strong in her turn from the server spot to help give the Fords set point, and Young handed the visitors the first set with a service ace of her own.
The Fords hit a match-best .231 in the second stanza, running out to a 8-4 advantage in the early goings. A 6-0 run for the Red Devils helped put the hosts back in the thick of things, but Hunsberger tallied a block to pull Haverford back within two. Isabel Schwam notched a service ace and Jadyn Elliott and Holland teamed up on a block to cut the Dickinson lead to just one at 14-13. Back-to-back aces from Hunsberger put the Fords ahead, and Haverford would not relinquish that hard-fought lead, rattling off a 9-1 run to take command of the frame. Dickinson inched back within two late, but Taylor Jones and Dina Kosyagin each recorded key kills to hand Haverford a 2-0 match lead.
The third set saw the two sides deadlocked as late as 11-11, before strong outside play from Otridge and Kosyagin helped Haverford gain some much needed separation. Elliott and Holland teamed up on a block yet again to put the Fords ahead by four at 21-17. Dickinson crawled back to within three at 24-21, but Otridge found the floor with her 12th kill of the afternoon to send the Fords to an emphatic conference sweep.
Filograna had a match-best four service aces, while Kuzbari and Hunsberger also recorded multiple aces in the three-setter. The Fords held Dickinson to a negative hitting percentage in the first stanza.
Haverford has now won four consecutive meetings with the Red Devils, a streak that dates back to the 2017 campaign. Overall, volleyball is 26-7 all-time against Dickinson.
The Fords now return to action on Wednesday with a trip to Allentown to do battle with Muhlenberg. Opening serve is slated for 7 p.m.