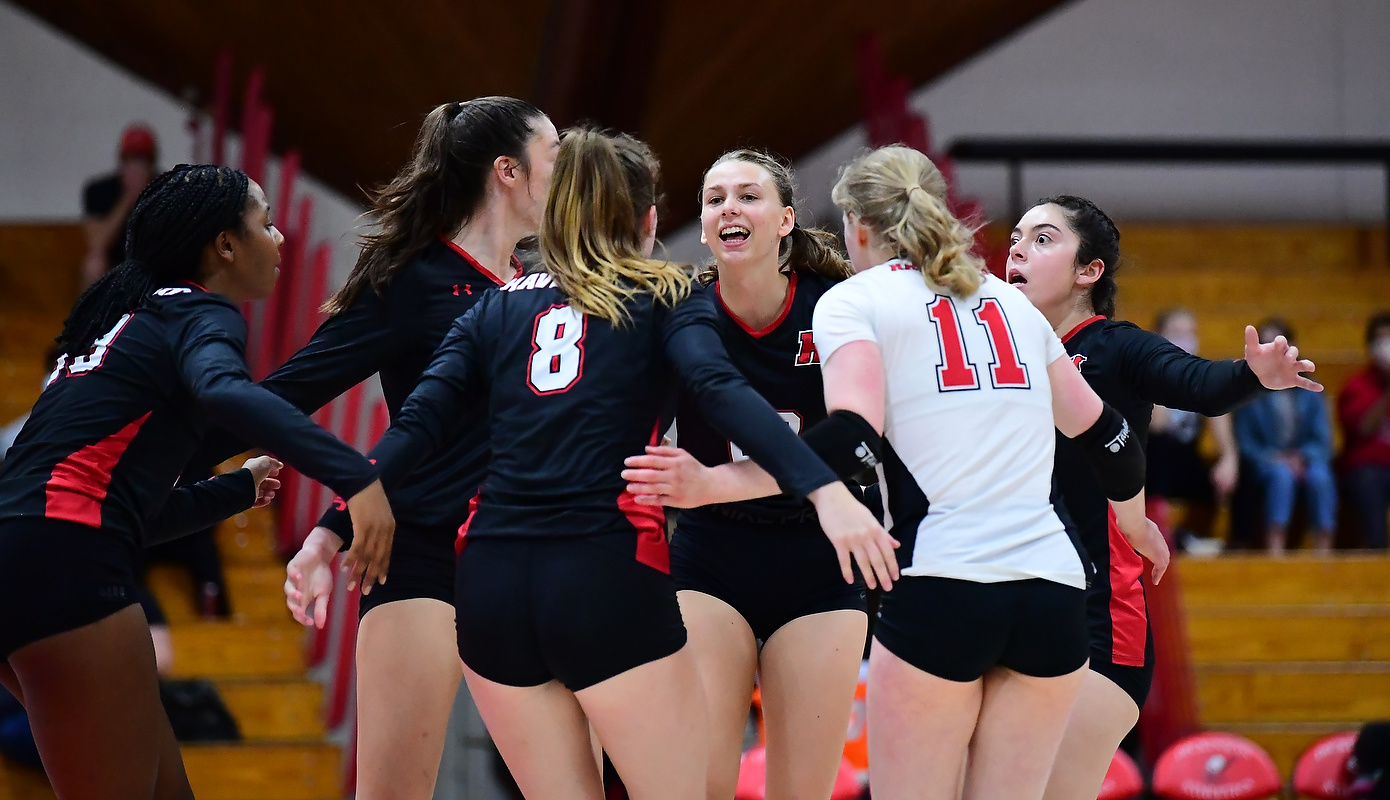 GETTYSBURG, Pa. - The Haverford College volleyball team (20-4, 7-1 CC) clinched a trip to the Centennial Conference semifinals with a 3-1 victory over Gettysburg (12-8, 4-4 CC) at Bream Gym on Saturday. Haverford will make its 18th appearance in the conference playoffs in the last 21 seasons. Haverford has now won 20 games for the second consecutive campaign, after posting 22 wins in the 2019 season.
The Fords were paced by Dina Kosyagin who notched 16 kills with Kendall Otridge added 12. Sara Hunsberger notched 39 assists and Juliet Young was a defensive force with 32 digs. Tea Kuzbari impressed with a career-best 12 digs. The blocking effort proved to be a difference maker, with Abby Holland, Taylor Jones, and Jadyn Elliott all connecting on multiple rejections.
Haverford hit their match best .205 in the first set, shaking off some early rust that saw the teams deadlocked as late as 14-14. Taking things to another gear, a 4-1 run put the visitors up 22-16. It was strong play from Otridge and Holland down the stretch that allowed the Fords to pull away, with Hunsberger and Jones notching a block to end the first set at 25-17 in favor of Haverford.
The Fords took advantage of some early Gettysburg miscues in the second frame, jetting out to a 12-6 advantage with Jones taking the lead at the service line. She contributed a pair of aces in the stretch before Koysagin prompted a Gettysburg timeout with a kill. The Bullets were still searching for answers after a 3-0 Haverford run on three consecutive errors from the hosts, and three kills down the stretch from Kosyagin set the tone in a 25-20 triumph.
The third saw Gettysburg bounce back behind a stellar .341 hitting percentage, as the Bullets made just two errors in the stifling set. A 9-0 run put things out of reach for the visitors, forcing a fourth frame.
In the fourth, Haverford regained its confidence after the Bullets held tough in the early goings. A Young service ace put the Fords up 16-12, and a strong serving turn from Elena Filograna gave Haverford match point before Hunsberger ended the contest with a kill at 25-16.
In total, the Fords registered seven service aces and allowed just one. Haverford has now won two straight contests with the Bullets, with both triumphs coming on the road.
The Fords will return to action on Wednesday in the regular season road finale at Ursinus. The match is slated to begin at 7 p.m.