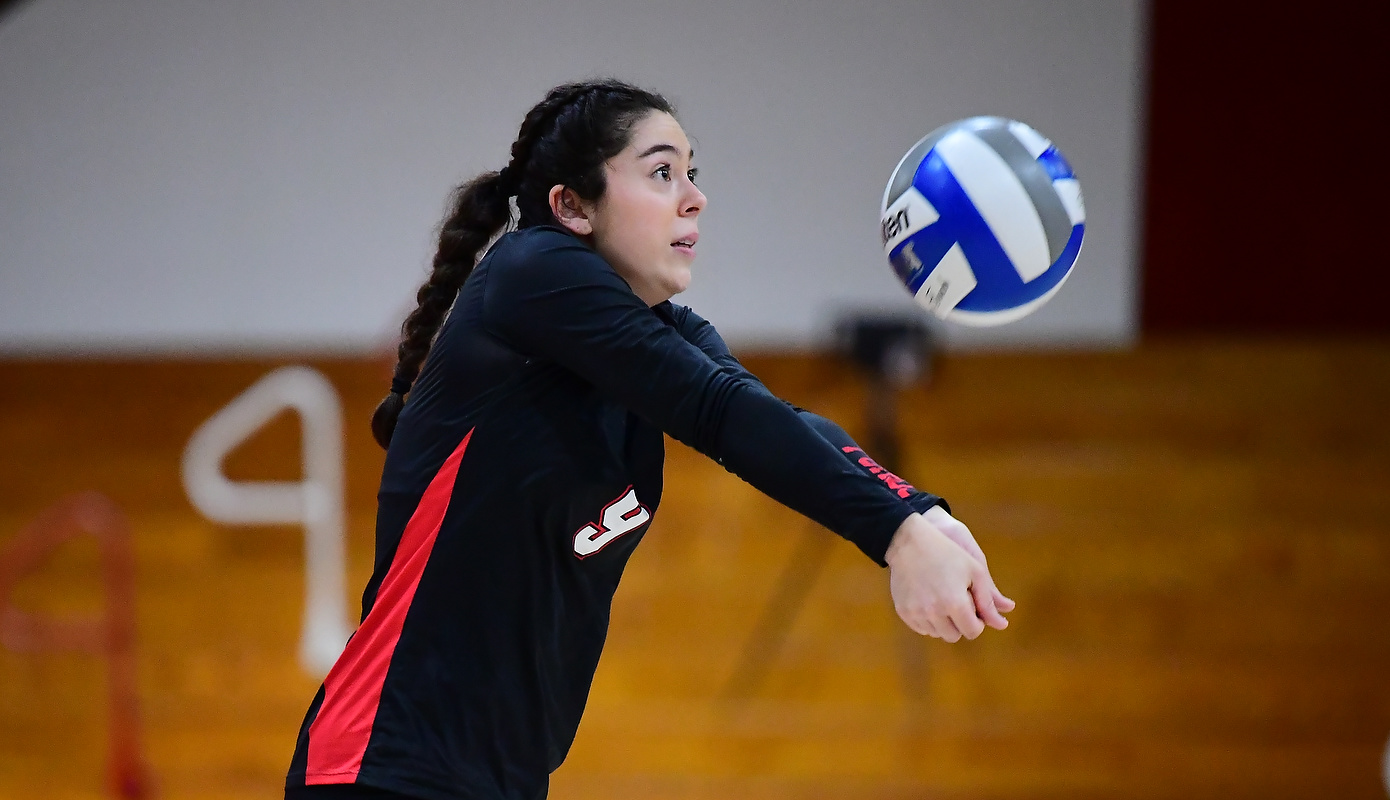 COLLEGEVILLE, Pa. - The Haverford College volleyball team (21-4, 8-1 CC) notched a 3-0 sweep of host Ursinus (6-14, 3-6 CC) on Wednesday night, picking up a fourth consecutive victory in the process. The Fords, already assured of a berth in the Centennial Conference semifinals, grabbed the victory by set scores of 25-21, 25-19, 25-16.

Junior Kendall Otridge paced Haverford with nine kills while Dina Kosyagin added eight. One of the most well-rounded performances of the night again belonged to Taylor Jones as the first year middle hitter hit a match-best .417 with six kills while adding three total blocks. Sara Hunsberger again excelled with 29 assists and four blocks. Playing her final collegiate match in her hometown of Collegeville, Elena Filograna notched 10 digs and four service aces. Juliet Young also impressed defensively, with 18 digs and three assists. In total, the Fords notched 12 service aces on the evening.
Haverford was unable to shake the Bears early in the first set, as the hosts came out strong to keep close in the early goings. Ursinus tied the score at 16-16, but a 3-0 run gave The Fords some breathing room at 19-16. At that point, Ursinus again pulled back to within one, but back-to-back kills from Jadyn Elliott and Abby Holland prompted a timeout from the hosts down 22-19. Otridge and Holland then connected on kills down the final stretch to hand Haverford a 25-21 set victory.
The second frame was easier for the Fords to handle, with the visitors jetting out to a 9-4 lead to begin the stanza. Ursinus rallied to cut the lead to three at 19-16, but it was the strong outside play from Kosyagin and Otridge that helped the visitors gain separation. A block from Elliott and Hunsberger handed Haverford the set at 25-19.
The third set was a coronation for the Fords as a 9-1 run put things out of reach for the hosts. That closeout stretch included a strong service turn from Téa Kuzbari and Filograna as consecutive errors from Ursinus gave Haverford set point before Kosyagin ended things with a kill at 25-16.
Haverford has now notched 24 consecutive victories over Ursinus, a streak that dates back to 1998. In the series history, Haverford is 35-8 all-time against the Bears.
The Fords now return home for a Senior Day showdown with Hood Trophy rival Swarthmore on Saturday, October 30. Haverford has already assured itself of a rematch with the Garnet in the CC semifinals, with that game now tentatively slated for November 6 at top-seeded Johns Hopkins.