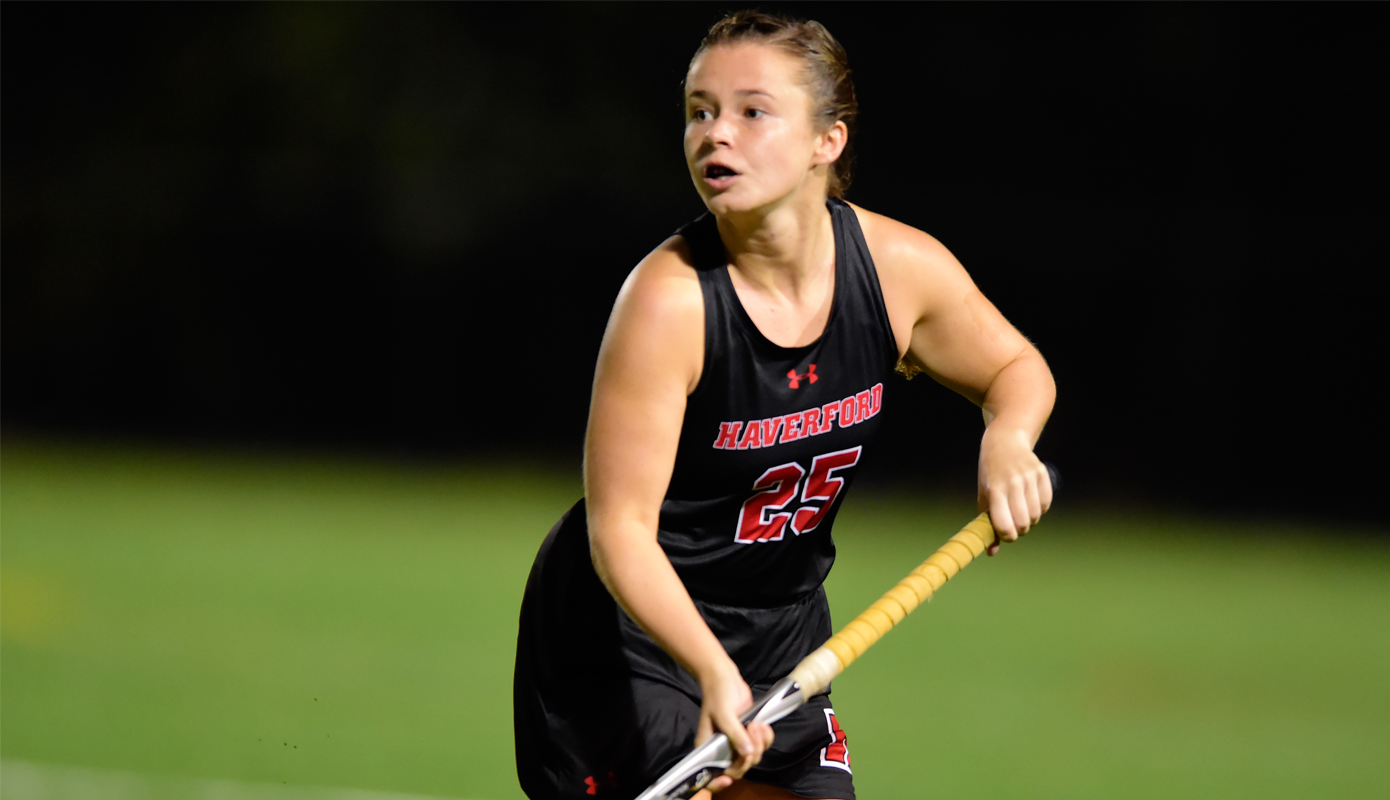 CARLISLE, Pa. - The Haverford College field hockey team (8-7, 2-6 CC) was defeated by host Dickinson (8-7, 4-4 CC), falling by a 2-1 final at Biddle Field Saturday afternoon. Kelsey Chai opened the scoring just over four minutes into the contest, but the Red Devils equalized in the first quarter before adding a penalty stroke in the fourth quarter to escape with the victory.
The aforementioned goal from Chai came after an early penalty corner opportunity for the Fords. Roxy Vassighi had her shot attempt saved by Dickinson's Heather Meeder, but the Fords were awarded a second consecutive corner following the unsuccessful attempt. This time, Haverford found the back of the cage, with Rylee Fennell connecting with Chai for the opening score. Chai was credited with her fifth goal of the season, while Fennell picked up her first assist of the year.
Dickinson scored with just 28 seconds left in the first quarter, as Macara Desai grabbed the rebound off a blocked shot and slotted it home past Sunny Truslow to tie the score at 1-1. Caroline Aronowitz made her 12th career defensive save to open the second quarter, denying an Elsie Harrington shot attempt that beat the keeper.
Dickinson held a 6-2 shot advantage at the halftime intermission, and a 5-2 lead in penalty corners.
After neither side registered a shot attempt in the third quarter, Dickinson was awarded a penalty stroke in the 54th minute, with Hannah Spiri netting the eventual game winner from the penalty spot. The Fords had a flurry of shots on a pair of penalty corners in the final minutes, but a swarming Red Devils defense was able to block attempts from Vassighi and Delaney Snowden in the closing seconds.
At the final whistle, it was Haverford that held a 10-7 shot advantage, while Dickinson clinged to an 8-6 corner tally. Meeder recorded seven saves, including six in the final six minutes as the Fords peppered the net in search of a late equalizer.
The Fords now return for two local games to close out the regular season. First, the Fords make the quick jaunt to Bryn Mawr for a Wednesday afternoon showdown (4 p.m.) before hosting Swarthmore in a Hood Trophy rivalry game on Saturday (1 p.m.).
The contest will be Haverford's senior day as the Fords honor the senior class of 2020 that includes Caroline Aronowitz, Rylee Fennell, Rachel Gordon, Carolin Schmidt, Lucy Tortolani, and Casey Wakai.