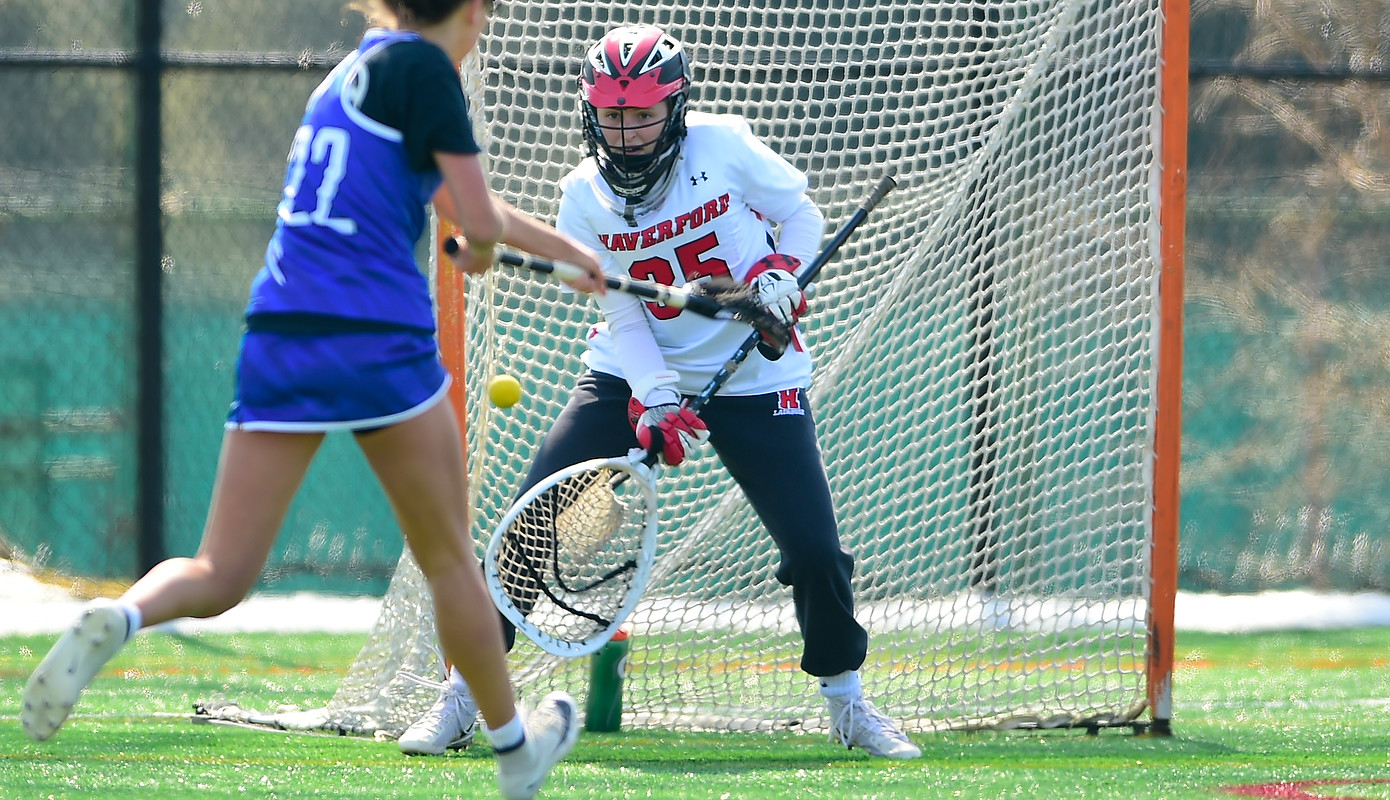 Play Video
HAVERFORD, Pa. – The No. 21 Haverford College women's lacrosse team (4-1) grabbed a hard-fought 21-19 victory over visiting Cabrini (2-2) on Saturday afternoon at Swan Field. The Fords were helped by a standout effort from sophomore Amelia Slade in goal, as the sophomore collected 25 saves, the fourth-most in program history and the most since the 2005 season. Sophomore Julia Pascarella tied for second in program single-game history with 10 points (four goals, six assists), while seniors Allie Gibbons (six goals) and Rina Rosnow (five goals) also had great performances on offense. Anna Meyers set a new career-best with seven ground balls as well as four caused turnovers, helping to anchor Haverford's defensive effort.
The Fords scored the first six goals of the contest, jetting out on a spurt that included a natural hat-trick from Gibbons to begin the contest. Rosnow and Pascarella also tallied man-up goals in the stretch. Avery Murphy got a pair back for Cabrini, and after Pascarella found Gibbons to make the score 7-2, Cabrini went on a methodical 6-0 run of their own to take an 8-7 lead. A Dana Carlson goal put the punctuation mark on the stretch as the Cavaliers found themselves ahead with 10:01 left in the half.
Maeve Gaffney and Hailey Morris then added quick strikes, with Pascarella assisting on both, and Haverford went back ahead 9-8 with 6:44 left in the half. Taylor Dimmerling scored a short-handed goal for the visitors, knotting things at 9-9, but Pascarella found the back of the net twice in the final three minutes of the half, sending her squad to the intermission up 11-9.
The Fords scored the first three of the second half, taking a more comfortable 14-9 lead as Gaffney, Rosnow, and Gibbons all scored in succession in the first five minutes of the stanza. Cabrini had a quick 2-0 spurt to pull within three, and the teams traded goals from that point until another 2-0 Cabrini run cut the Haverford lead to 16-14 with 14:26 to play.
The next team to score two straight was the Fords, as Rosnow and Pascarella each added man-up strikes for a 20-16 lead. Cabrini responded with a pair of goals, as Murphy converted a free-position with 4:09 to play to cut the lead to 20-18. From that point, Slade and the defense did just enough to turn away a possession-minded effort from the visitors. Julia Manetta added a goal with just less than 80 seconds left in the contest, for a 21-18 lead, and Carlson's goal with under a minute remaining was too little, too late for Cabrini.
Slade was a force for the Fords between the pipes, turning away shot after shot as Cabrini fired off 44 in total and put pressure on the Haverford defense with a 32-10 advantage in draw controls. Slade was up to the task, as she turned in the finest effort of her young career in the win. The back line certainly played a large role for the Fords as well, with Meyers headlining the group with four caused turnovers and seven ground balls. Sophomore Isabel Canning also had a career-best four caused turnovers and added four ground balls.
DiRienz won four draw controls for Haverford. On the Cabrini side, Murphy stuffed the stat sheet with seven goals, three assists, three ground balls, two caused turnovers, and 12 draw controls. Ashley Tutzauer came off the bench for an impressive two goal, three-assist stint. Carlson (four goals, one assist) and Dimmerling (three goals, three ground balls) were also standouts for the Cavaliers. Shea Neary controlled seven draws and caused a pair of turnovers in an all-around effort.
The Fords improve to 8-1 all-time against Cabrini, in a series that dates back to 2010. Haverford now heads out for its annual spring break trip, and the team will be heading to Southwest Florida for a pair of games. Haverford faces off with RIT on Tuesday, March 12 (1 p.m.) before taking on Skidmore at 10 a.m. on Thursday. March 14. Both contests will take place at Ann Dever Park in Englewood, Florida.