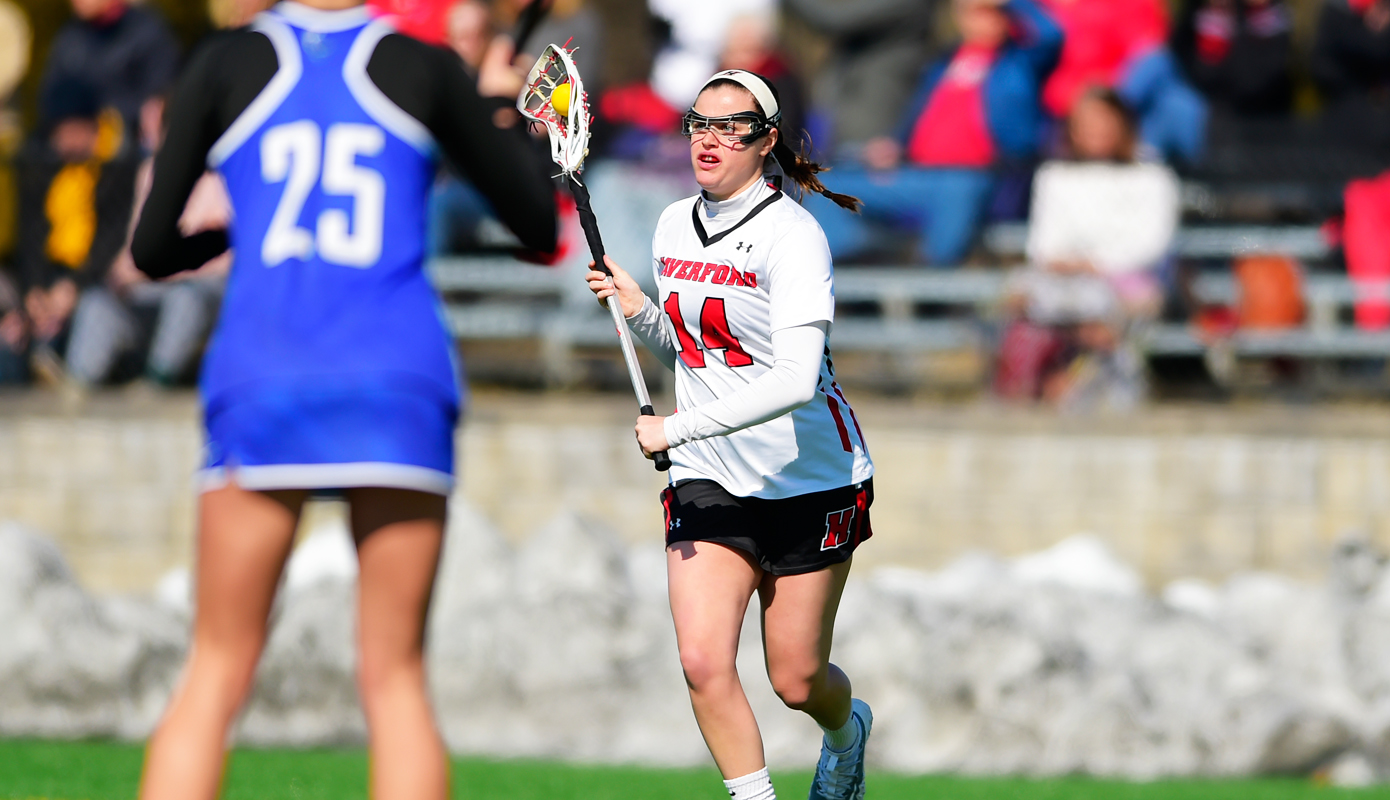 HAVERFORD, Pa. – The 23rd-ranked Haverford College women's lacrosse team (6-4, 1-2 CC) was edged by visiting Muhlenberg (7-3, 2-1 CC), falling by a 13-12 final on Wednesday night at Swan Field. The Fords played a second consecutive one-goal game in conference play. Haverford tied the score at 12-12 with 10:16 to play, but Muhlenberg tallied with 4:25 to go, taking a lead it would not relinquish.
The Fords scored the first goal of the contest, with co-captain senior Allie Gibbons taking a pass from junior Julia Manetta and scoring just under three minutes into the first half. The two teams traded goals until Muhlenberg found some breathing room with an early 4-0 run. The stretch included a pair of free-position goals, and Gabriella Crivelli gave the visitors a 5-2 lead with 22:18 to play.
Haverford added three of the next four goals, with Gibbons putting home an unassisted tally with 14:36 to go in the first as Haverford was within one at 6-5. Two straight goals from juniors Julia Pascarella and Olivia DiRienz tied the score at 7-7, but Victoria Friedel grabbed a goal before the intermission, giving Muhlenberg a slight 8-7 edge midway through the contest.
Crivelli scored the first two goals of the second, but Haverford responded with strikes from Gibbons and sophomore Hailey Morris, pulling back to within one at 19:05. Junior Maeve Gaffney then scored with 12:23 to play, tying the score at 11-11, but Amanda Tullo gave Muhlenberg the lead with 12:06 to go. Less than two minutes later, it was Pascarella who tied the contest, taking a pass from Manetta and converting with the game clock reading 10:16.
A scoreless stretch of nearly six minutes was broken as Muhlenberg was awarded a free-position attempt with just over four minutes remaining in regulation. Taliah Carson connected on her first goal of the game, giving the Mules a late one-goal edge.
Muhlenberg goalkeeper Jordan Segrave came up big in the final moments of the contest, as she stopped five shots with her team clinging to the one-goal lead. The Fords worked hard to force Muhlenberg into turnovers in the final four minutes, with a swarming defensive effort ramping up its intensity. Ultimately, Segrave was able to keep the Haverford attack at bay, allowing the Mules to escape with the one-goal road win.
Gibbons had a team-best three goals while causing two turnovers. Manetta extended her conference assist lead with a six-assist night. First year Caroline Alexis caused two turnovers, while junior Anna Meyers won six draw controls and scooped three ground balls. Sophomore Amelia Slade made nine saves for the Fords.
Segrave finished with 18 saves to highlight Muhlenberg's defensive effort. Amanda Tullo notched five goals and added two assists. Crivelli had three goals to go with a pair of caused turnovers.
The Fords head out to Dickinson for a conference matchup on Saturday afternoon. The contest is a rematch of last season's Centennial Conference First Round playoff game. Opening draw is slated for noon.