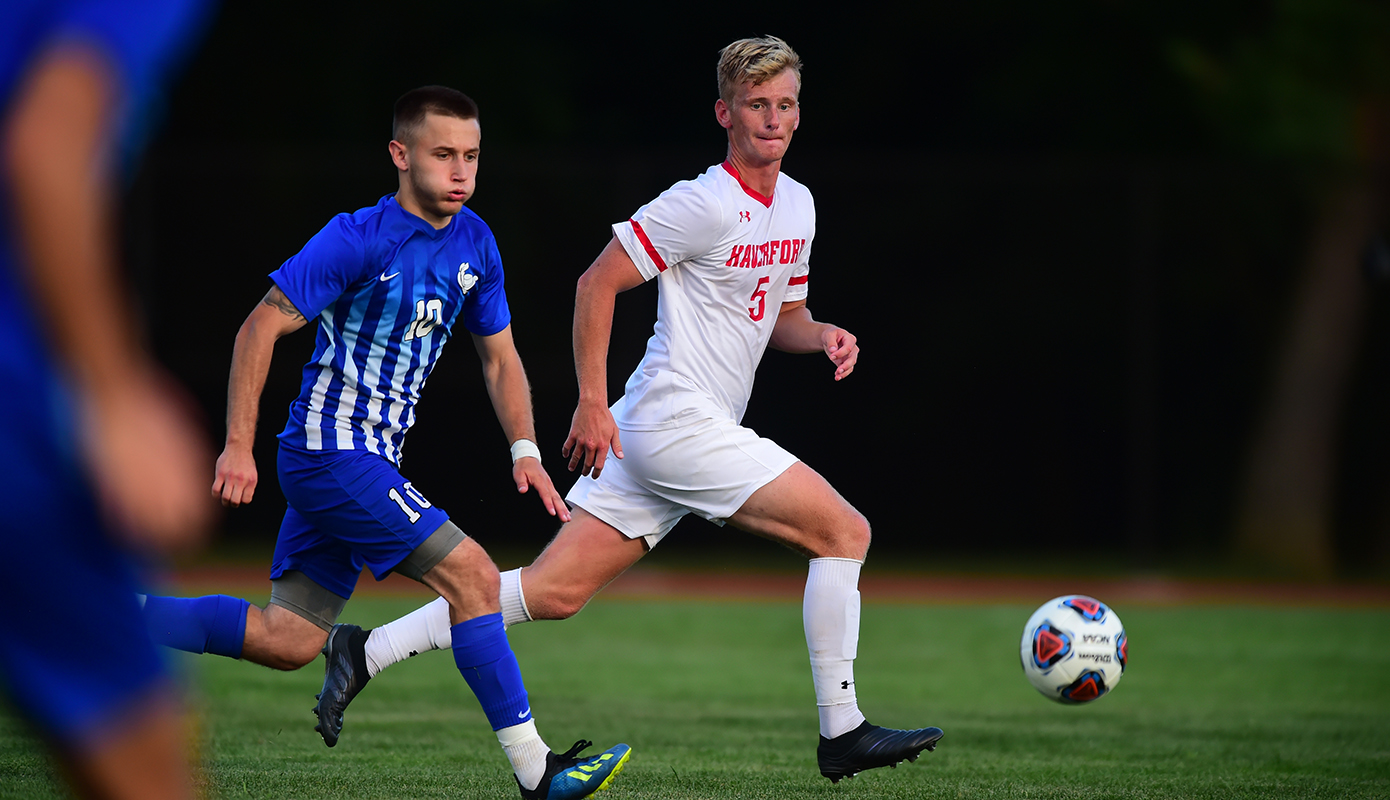 HAVERFORD, Pa. – McDaniel converted a penalty kick with just 3:40 remaining in regulation time to hand the Haverford College men's soccer team a tough 1-0 defeat on Wednesday afternoon. With both defenses not relenting for the first 86-plus minutes, the Fords were called for a hand ball in the box right before the eventual game-winning goal.
Jacob Wells, who now has nine goals this season, converted the penalty kick attempt to send visiting McDaniel away victorious. Today's final result came despite the Fords finishing the match with an 18-8 advantage in shots to go along with a 7-2 edge in corner kicks.
Haverford peppered the McDaniel goal throughout the match, but nine saves from Green Terror keeper Aaron Bilbie kept Haverford off the board. No save loomed larger than Bilbie's penalty kick denial with 2:17 left in regulation time. Haverford's penalty kick chance came just 1:23 after the Green Terror went up 1-0 and was also awarded as the result of a hand ball inside of the 18.
The Fords pushed for the go-ahead goal for seemingly the entire second half, racking up an 11-4 advantage in shots over the final 45 minutes. Nevertheless, Bilbie made six of his nine saves during that time to preserve McDaniel's shutout effort. Eleven different players recorded a shot for Haverford in the match as the pressure seemingly came from all over the field. Nick Jannelli led those efforts with six shots, putting four of his attempts on target. McDaniel managed just two shots on goal outside of the penalty kick, both of which were handled easily by Haverford goalie Michael Iacono.
With the completion of today's match, which was originally scheduled for earlier this month, every team in the Centennial Conference has now completed six of its nine scheduled conference matches. The Fords are currently in fifth place overall with 10 points. Haverford is just three points behind both Johns Hopkins and Gettysburg as those squads are tied for second. Nevertheless, Swarthmore is just two points behind the Fords for the final playoff spot in a very competitive conference race.
Men's soccer will look for a bounce back performance this Saturday as the Fords travel to Dickinson for a 4:30 p.m. start. Haverford will have a chance to improve its conference positioning in Carlisle as the Red Devils sit in fourth place, just two points ahead of the Fords.